The Practice of Mindful Sex
A four-day virtual retreat: January 15, 16, 17 and the following Saturday, January 23, 2021
Welcome to the world of "real-life" sex!
In Part One of our Passion and Presence® series, you will come to understand why erotic challenges are inevitable.
Bodily changes, sexual familiarity, and ongoing stressors are facts of life. Moreover, limiting beliefs about pleasure and sex, as well as emotional wounds, emerge in just about any relationship with time. We can avoid sex, or we can view our difficulties as signposts to healing and growth. 
Great sex is a mindset – not a skillset.
Erotic presence can help you overcome the dulling effect of familiarity and reawaken eros in your long-term relationship.
You can experience continual novelty by adopting a curious and exploratory state of mind, no matter how long you've been together. As you learn to see, touch, and share with renewed presence and curiosity, you will also discover where you have been stuck or deadened. 
Through erotic presence, you can "wake up" together as you work through your challenges mindfully. We will hold space for you to re-access your embodied wholeness as you begin to gently transform the hidden imprints and wounds that have been dampening your aliveness. 
With Maci Daye & Halko Weiss
8 am – noon (Pacific)
11 am – 3 pm (Eastern)
BREAK: Noon – 2 pm (Pacific)
3 – 5 pm (Eastern)
2 pm – 4 pm (Pacific)
5 pm – 7 pm (Eastern)
With Maci Daye & Halko Weiss
8 am – noon (Pacific)
11 am – 3 pm (Eastern)
BREAK: Noon – 2 pm (Pacific)
3 – 5 pm (Eastern)
2 pm – 4 pm (Pacific)
5 pm – 7 pm (Eastern)
With Maci Daye & Halko Weiss
8 am – noon (Pacific)
11 am – 3 pm (Eastern)
BREAK: Noon – 2 pm (Pacific)
3 – 5 pm (Eastern)
2 pm – 4 pm (Pacific)
5 pm – 7 pm (Eastern)
With Maci Daye & Halko Weiss
8 am – 12:30 pm (Pacific)
11 am – 3:30 pm (Eastern)
BREAK: A 30 min and 15 min break will happen during the session.
Why us? How are we different from other retreats?
Are you wondering if this is the right couple's retreat for you? If so, consider these touchstones to see if we are a good fit:
Our specialty is helping you update your sexual operating system.
Sexual problems often have little to do with sexual function or poor technique and a lot to do with what encodes in the "operating systems" of our erotic lives. These are your beliefs and mindsets based on early learning and past experiences. We will show you how to access and transform these deeper imprints to heal and grow together.
Our "sex workshops" are about so much more than sex.
Passion and Presence is a path and practice, not a one-off solution to sexual problems. For us, sex is a portal to "Awakened Intimacy," which is the practice of bringing curiosity to our experiences in bed.  Learning how to be with what's happening now, including the complicated feelings that often arise during partner sex, is the path to pleasure, connection, and healing.
It's complicated—and it's all about real-life and real-life sex.
We make no false promises; there is no formula for sexual satisfaction that will endure through every season. In all long-term relationships, sex becomes complicated. Instead of resisting, fixing, or ignoring our real-life struggles, we can plumb our depths (gently and mindfully) to discover what is standing between us and our pure erotic potential.
It's a paradox that we can open up to more creativity, freedom, and self-expression by befriending our difficulties.
We combine the East's perennial wisdom with the best of Western neuroscience and contemporary sex therapy.
Mindfulness is central to everything we do. As a real-life couple ourselves, we've been practicing and teaching mindfulness for decades, and we use it to deepen our emotional and sexual connection every day.
While mindfulness teaches us how to be with real-life in a curious and accepting way, we incorporate proven ways to transform based on brain science. Maci is a certified sex therapist who knows about desire issues, the effects of aging and illness on genital function, and alternate love styles and erotic preferences. She also has training in working with trauma.
Again and again, we hear that teaming up around sex and the felt sense of "being in it together" is the biggest "takeaway" of Passion and Presence.
Even the most loving couples end up arguing, defending, blaming, or hiding from each other. We get it; we've been there too. When you recognize that you are engaging in understandable "protective patterns," you can begin to hold hands through the hard stuff. Helping you connect around divisive issues is our priority, whether inside or out of the bedroom.
You're the Boss, and You Don't Need Fixing.
You won't find diagnoses or judgment here. We aren't "fixers," but we are gentle, non-pathologizing, sex-positive, and trauma-sensitive.
Roles, norms, and labels are changing rapidly, and we're in confusing yet exciting times filled with uncertainty and possibility.
We celebrate that our experiences are unique, and in doing so, we can access our innate sense of wisdom, compassion, and aliveness.
If you've read this far and aren't sure, wait a bit (but not too long since we might fill up and offer an early registration discount!). If this description speaks to you and you're ready to invest in your relationship's vitality for the long-haul, hit the register button. We're excited to be with you on your journey!
Before signing up, please read through the following to determine if this online retreat is right for you. 
NOTE: If you aren't sure if you are ready for the retreat, email us: info@passionandpresence.com. We'll set up an online call to determine if now is the right time to join us.
Please consider staying at a hotel to immerse yourself in your relationship for the duration of the retreat. If you have children and will be staying at home, please hire a babysitter, or if it is safe to do so, have them stay at a friend's house. 
Join Us for Our Upcoming Retreat!
Part 1 is a four-day program that we are aiming to make as interactive and engaging as possible. We will livestream during the times listed on the schedule. For some meditations, exercises, and talks, you'll receive recordings. There will be break-out rooms and off-camera exercises each day, so you don't have to worry about screen fatigue. And, we'll take ample breaks each day!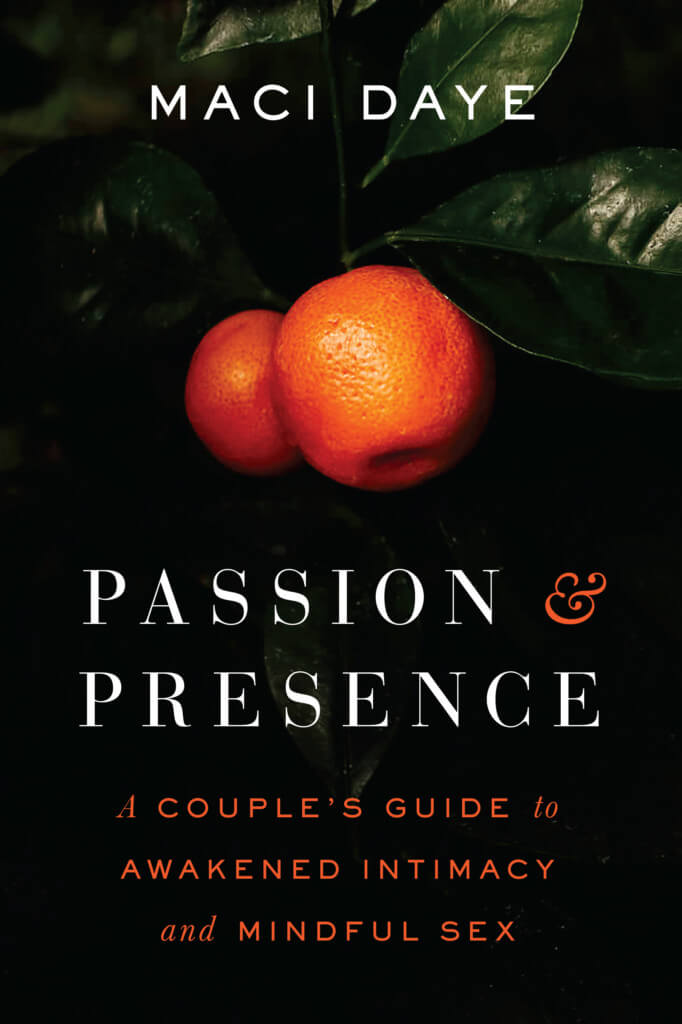 Plus, A Copy Of Maci's New Book, "Passion And Presence: A Couple's Guide To Awakened Intimacy And Mindful Sex."
Friday, Saturday, Sunday & the following Saturday (4 days)
January 15, 16, 17 and January 23rd, 2021
Early Bird $1395 Until November 30
Explore the full series of Passion & Presence® Retreats