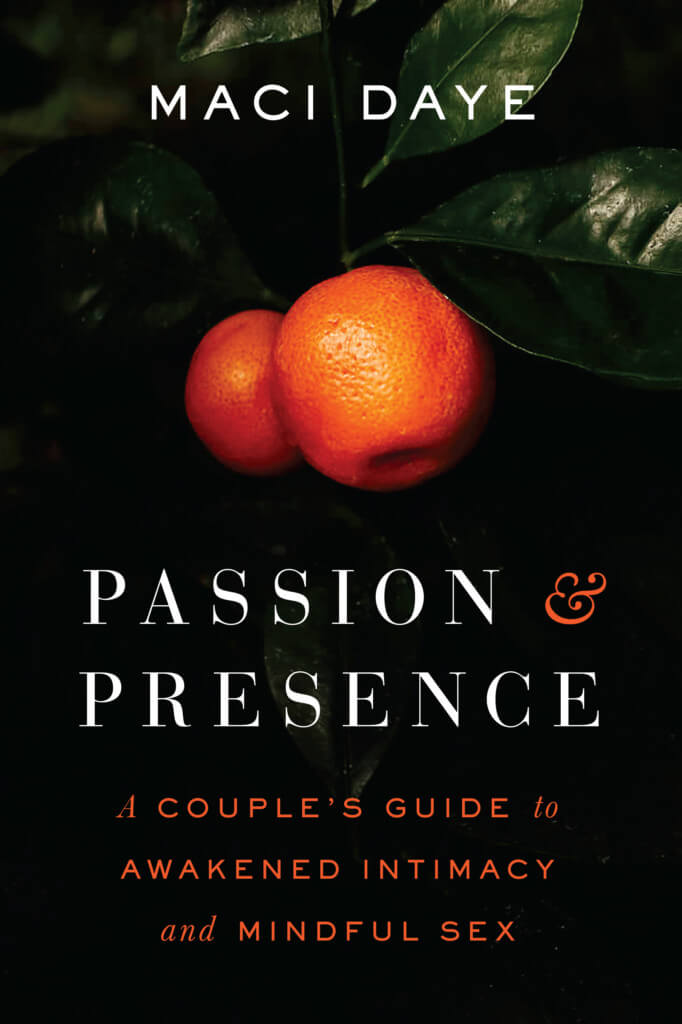 Awaken your mindful sensuality and reconnect with your partner with Passion and Presence.
Most romantic relationships follow a predictable pattern of initial enchantment followed by inevitable disenchantment. But relationships don't have to stay in disenchantment or end! Passion and Presence offers readers a proven path back to connection and intimacy — often in deeper ways than before. Sex therapist Maci Daye draws on her popular international Passion and Presence workshops to show couples how their erotic difficulties can be a portal to creativity, compassion, and unparalleled growth.
Exercises and reflections guide readers down what Daye calls the "naked path" of awakened intimacy. On this path, we courageously examine ourselves, our barriers, and our relationship patterns, ultimately finding fresh ways to heal and connect, and revitalize eros. Daye addresses the everyday challenges of "real life" sex with gentle clarity, such as sex that has become routine, differences in preferences or desire, power struggles, a history of trauma, changes ranging from childbirth to aging, infidelity, communication challenges, and more. Engaging stories depicting couples of diverse ages, backgrounds, genders, and orientations illustrate how the practice of Passion and Presence can help any couple establish a more intimate and wakeful erotic life.
Your Pre-Order Bonus Gifts!
Now until 10/19/20, every book order includes:
$75 off a live or online retreat
(limit one per couple)

Entry into a raffle for a 50-minute private couple's session with Maci (drawn on October 22, 2020)
Get your copy at a bookstore or using one of the links below.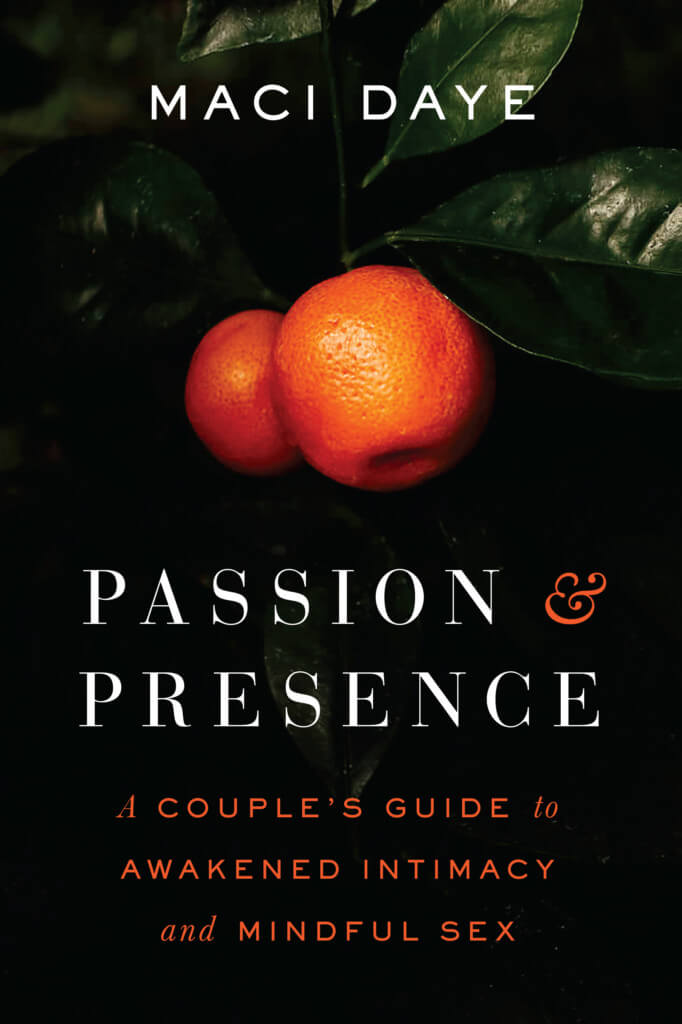 Get the receipt or confirmation# and come back to this webpage.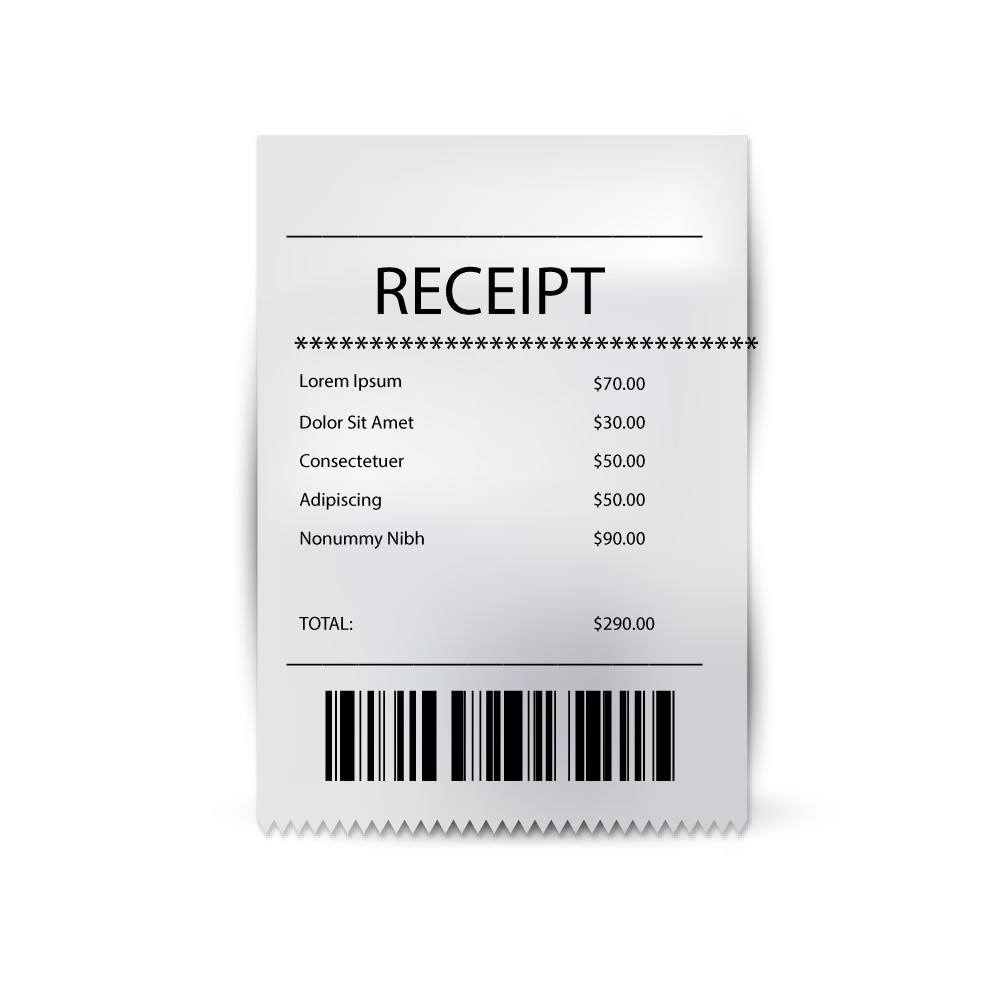 Fill in the form below and receive your gifts via email.
By signing up you'll receive updates + newsletters from Passion and Presence, which you can unsubscribe from any time. Your email address will never be shared or sold.
"Learn to inhabit your living body with sacred presence. This is a wonderful guide to deepening intimacy through the seasons of our loving relationships."
Tara Brach, PhD
author of Radical Compassion and Radical Acceptance
"The beautiful writing, the vivid case descriptions, and the detailed exercises make Daye's Passion and Presence a must read for all people wanting to infuse more presence into their sex lives."
Lori A. Brotto, PhD
Professor, Faculty of Medicine, University of British Columbia; Executive Director, Women's Health Research institute, Canada Research Chair in Women's Sexual Health, author of Better Sex Through Mindfulness: How Women Can Cultivate Desire
"In this hopeful and radically transformative book, Maci Daye takes us into the under-layers that block our true sexual potential and outlines a path out of resignation to joyful pleasure. The surprising secret to sustaining or reigniting the passion between long-term lovers begins within, claims Daye, and our capacity to "be here" versus "get off" is vital."
Chelsea Wakefield, PhD
Associate Professor, University of Arkansas for Medical Sciences Psychiatric Research Institute; author of In Search of Aphrodite and The Labyrinth of Love
"This book brings real tools to all couples looking to increase the passion and connection in their relationship, whatever stage they find themselves. Anyone looking at this book will find a new way to be present with their partner."
Tammy Nelson, PhD
author of Getting the Sex You Want
"Real life has a way of dampening the passion in any relationship. Rather than offering simple tricks to spice up a relationship, Maci Daye shows couples how to get naked by embracing where they are, and who they are, in all their complexity. This book is a trustworthy guide based on the author's deep understanding of human sexuality and mindful living. Please don't give up on your relationship, or yourself, before reading this wonderful book!"
Christopher Germer, PhD
Faculty, Harvard Medical School, Co-developer (with Kristin Neff), Mindful Self-Compassion Training, author of The Mindful Path to Self-Compassion: Freeing Yourself from Destructive Thoughts and Emotions
"Maci brings her decades of experience and her wide-open heart to this gentle and wise book. On these pages, you are invited into deeper connection-- with your partner and with yourself. Your sexual healing starts now!"
Alexandra H. Solomon, PhD
Assistant Professor, Northwestern University; author of Loving Bravely: 20 Lessons of Self-Discovery to Help You Get the Love You Want and Taking Sexy Back: How to Own Your Sexuality and Create the Relationships You Want
"Maci Daye packs her hard-earned wisdom from her decades of helping couples use their sexual issues as paths to becoming more fully alive, intimate, and erotic, into the pages of this comprehensive and practical book. She writes that "Great sex is a mind-set, not a skill-set," and proves that with a host of engaging case-studies and experiential exercises that will help you find and heal the inner obstacles to great sex."
Richard Schwartz, PhD
Creator of the Internal Family Systems model of psychotherapy
"In this beautiful book, Maci Daye tackles the profound question – "how can we stay erotically alive in long term relationships?" She takes us on a journey from disenchantment – the ho-hum, disconnected, painful relationship stage that follows early lust and love – to erotic re-enchantment. If we accept her challenge to walk the Naked Path with our lover, and to explore the physical, emotional, psychological and spiritual dimensions of sexuality, we can learn to inhabit Eros from the inside out. For as Maci says, "great sex is a mind set, not a skill set". If you are looking for a quick fix to your bedroom boredom, this is not the book for you. And to that, I say hallelujah. Because there are no handy short cuts around sensual disconnect, no easy way to break out of the familiarity trance and bring mindful aliveness to this moment, this touch, this kiss. But if you are ready to explore what it means to be truly naked, together, I strongly recommend Passion and Presence.
Cheryl Fraser, PhD
author of Buddha's Bedroom – the Mindful Loving Path to Sexual Passion and Lifelong Intimacy and creator of the online couples program Become Passion – Create Love that Lasts a Lifetime